Startseite
Quick Navigation
News
1kW Convection cooled AC/DC power supply with inherent redundancy designed for rugged industrial applications. (PFL 1K-XXF44T)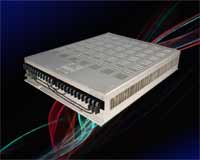 Absopulse Electronics' PFL 1K-XXF44T series of rugged industrial grade ac/dc switching power supplies with PFC input deliver up to 1000W continuous output power. They employ field-proven design topology to convert a universal ac-input voltage to a 24Vdc/40A, 48Vdc/20A or 125Vdc/8A output. Custom input and output options are available on request.

The series is built with two PFC 319 internal modules, which have a well-established track record in numerous heavy-duty applications. This modular construction provides inherent redundancy; in the event of the failure of one internal module, the unit would remain functional at half power. Several PFL 1K units can be paralleled for higher output power. This design can also be used as a 500W redundant power supply. Indicators include a green "œOutput ON" LED that is visible on each internal module through the cooling slots. An output fail alarm is available as an option.

The PFL 1K-XXF44T series are housed in a rugged low-profile convection cooled chassis with a total footprint of 267 x 64 x 353mm and are suitable for 1kW industrial applications where available height is restricted and where fans are not permissible. These converters meet EN61373/IEC61373 shock and vibration standards; additional ruggedizing and conformal coating are available for operation in extreme environments.

The units are filtered to meet EN55022 EMI standards. The power factor is corrected to a minimum of 0.97 at full load for the entire input range in compliance with the EN6100-3-2 directive for low input harmonic distortion. The absence of fans, low component count, large design headroom, and the use of components with established reliability result in a high MTBF. For detailed specifications, please see datasheet above (right).

Absopulse offers an extensive range of AC/DC power supplies and battery chargers designed for operation in rugged environments. These designs can be modified to meet customer electrical and mechanical requirements.
Dateien:

201108a_PFL1K-XXF44T.pdf
05.08.2011 13:28 Alter: 2 Jahre